For my inaugural blog post, I decided to focus on my very first Fashion Royalty doll. She was Lustrous Silhouette Adele, and I got her on January 16, 2011. I bought her from a very nice person I met through the Pink Parlor. I previously had a very few celebrity dolls, all by that "other" doll company, but once I stumbled across Pink Parlor and saw some of the photos people took with their Fashion Royalty dolls, I knew that was something I had to do. The picture that pushed me over the edge to buy my first doll was a picture of Paparazzi Bait Adele, who had been rerooted with long, reddish-blonde hair, similar to Lustrous Silhouette. That's why when I saw Lustrous Silhouette offered for sale, I jumped at it! When I really didn't know anything about the Fashion Royalty dolls, other than how beautiful they were. I didn't realize how rare she is, nor did I realize what a great price I had been given on her.
Nicole Kidman, at the 1997 Academy Awards.
Lustrous Silhouette was a limited edition of 500 dolls worldwide, and was released in 2005, as part of the Black Lacquer Collection. In addition to Adele, the Black Lacquer Collection was comprised of Rare Creature Veronique (LE 1000), Fierce Subject Kyori (LE 1000), and the Foreign Affair Veronique gift set (LE 850). I've asked some long-time collectors how they remember the release of the Black Lacquer Collection, and have been told it was one of the most anticipated releases before or since. Black Lacquer was part of the Voyages Collection, which had debuted in 2004, and introduced the Expressive Articulated Body. So the Black Lacquer Collection was the second offering of dolls with the second generation body, with more articulation. Both collectors I talked to indicated that Adele and Veronique sold out immediately, and that Kyori was somewhat (but not much) easier to find. They both attribute Adele and Veronique's popularity in this set to their stunning fashions, intricate jewelry, and their intricate, high ponytails, with the chopsticks. Adele's gown was inspired by an absinthe John Galliano gown worn to the 1997 Academy Awards by Nicole Kidman.
The beading across the upper back of the Lustrous Silhouette gown is a
beautiful detail, and still remains one of the most-mentioned things about this doll.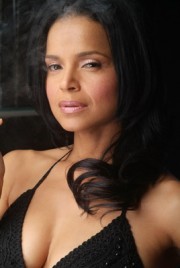 Once I started getting more dolls, particularly more Adeles, I started giving them names. Lustrous Silhouette Adele is now known to me as Drucilla, after a character on The Young & the Restless, Drucilla Barber Winters, played by Victoria Rowell.
Drucilla is a prized part of my collection. I have upgraded her to a tall, hand-speak body. Adele is one of my two favorite sculpts (with Veronique) and Lustrous Silhouette, as my first, will always be very special.
Drucilla, relaxing in the living room at the Veroniques' country home.
Drucilla, modeling Randall Craig's "Sunday Stroll."
That's it for this week. I'll be back next week with a look at the Girl of the Moment Veronique Perrin.
The first picture I took of Drucilla, and one of my first attempts at doll photography ever.